Saturday, January 14, 2012
When we last left off, our intrepid honeymooners were planning the trip of a lifetime, and T.J. had agreed (albeit grudgingly) to risk death and heart attack on a helicopter tour of Kauai....
For weeks he told people that I was trying to kill him on our honeymoon. My response? "Well, at least I'm doing it at the end of the trip, after we've done all the other good stuff. You won't be missing anything." :-P
He changed his tune a little bit in the 24-hour period before we left for Hawaii because this is what it looked like outside our house:
***Accurate representation of winter in Pennsylvania.***
So yeah, even a fiery death here...
seems more appealing than living like this:
(Okay, not really...........................but almost.)
Because we'd booked our flight about eight months in advance, Delta saw fit to change our reservations at least three or four times. Add to that the delays we had getting back to PA from the in-laws' house (thanks a lot, Atlanta airport!), and we ended up with about 24 hours at home in PA to unpack from the wedding/holidays, do laundry, pick up last minute items, and repack for Hawaii.
Our flight from Pittsburgh left at 7:15 a.m. on Dec. 29 (Thursday), and we connected in Atlanta for the 10:55 non-stop to Honolulu. Ten and a half hours of flying. It wasn't nearly as bad as we were dreading, thanks to the abundance of free movies available on the plane. I watched Midnight in Paris, Crazy Stupid Love, X-Men: First Class, 30 Minutes or Less, and Tree of Life on the flight over, which I would rate as Very-Good-Because-It's-About-Awesome-Writers-and-Artists, Good-Because-Emma-Stone-Is-In-It, Ehh *half shrug*, Spare-Yourself-Even-If-You-Like-Jesse-Eisenberg-And-That-Guy-From-Parks&Rec, and Total Snooze--as in, I couldn't stay awake during it and have no idea what it was about. We actually landed an hour early thanks to non-existent headwinds and disembarked the plane sometime after 3:00 p.m. Hawai'i time (8:00 p.m. EST), so all in all we spent about 13 hours traveling. Not bad for traveling more than 5,000 miles, if you trust Google Maps. (Which also suggests that, instead of flying, you drive cross-country and take a kayak from Seattle to Honolulu.)
We enjoyed walking through the Honolulu airport, which is partially open air (well, hello there, sunshine and blue sky!), and we joined the crowds at baggage claim, grabbed our three huge suitcases, and made our way out to the Thrifty shuttle. The shuttle ride to the off-site agency was short and painless, and since we are Blue Chip members, our car was outside the main office waiting for us when we got there. Within minutes we were loaded up in our Ford Fusion and on our way to the Waikiki Marriott!
Traffic wasn't great, but the drive through Waikiki was nice, and our trusty Garmin got us to the hotel with no problem. The Marriott is a huge, two-tower resort that takes up a full city block, so we had to circle the block once to find the self-parking garage. Valet ended up only being $5 more a day, so we probably would have done that if we'd known (the self-parking garage goes up and up and up), but we always found parking eventually, so it didn't end up being a problem.
The hotel was fully booked (or at least in our price range), so we ended up getting an upgrade from the city-view room we'd booked to an ocean view.
View from our balcony that first night.
We hadn't eaten anything but airplane food for about twelve hours at that point, so after we dumped our bags and oohed and ahhed over the view, we went down to the Moana Terrace restaurant in the hotel. It was happy hour, so we got to start our vacation off right with $6 cocktails (pina colada for me, Blue Hawaii for T) and yummy $5 appetizers (sweet potato fries and kalua pig nachos). The sun set while we were eating, and it set
fast
. Our table was about as far from the railing as you could get, but T.J. noticed people getting up to take pictures of the sunset, so I went over to see the view. After I'd snapped a couple of pics with my cell, I went back so he could go over and see it, but by the time he made it to the railing, the sun was already gone! As we'd learn over the next week, the sun rises
and
sets very quickly in Hawai'i.
Thanks to the five-hour time difference between PST and EST, we were exhausted by that point and ready to hit the sack not long after dinner (around 8:00 p.m., I think), but that was okay, because we had to be up by 4:30 a.m. for our excursion with
Shark Encounters
!
...
What the world looked like to me for the next eight or so hours...
...
The next morning we had to rush to get ready because we had at least an hour drive to the North Shore and a 6:15 check-in time with the Shark Encounters crew. At that time in the morning, we were able to make the drive in a little less than an hour, but since we were a little late leaving and made a couple of weird turns thanks to the GPS, we arrived just in time for check-in.
Before leaving for the harbor, we popped a few Dramamine because we'd been warned about how rough the waters in the cage are. I don't usually get seasick, but I'd read enough reviews to be wary and decided to err on the side of caution. I was so glad I did, because when I opened my car door at the harbor, I was greeted with a strong fishy smell, which immediately made me feel nauseous. Few things make me feel as queasy as the smell of rotting fish, and this particular smell was rolling off a fishing boat getting ready to head out for the morning. Luckily, they left a few minutes later, and I was able to sit in the car until then.
Once Chris and Philip, our Shark Encounters crew, were ready for us, we joined the other people who would be heading out with us that morning: a couple from Canada and a woman from Texas with three pre-teen girls. It was a little after 6:30 by this point, and the sun was just beginning to rise as we headed out. By the time we reached the cage (about a 15 minute boat trip), the sun was up and the fishing boats were swarming around the spot where the cage was.
Looking pretty tired, but I'm ready for the sharks!
The cage was attached to a mooring that had been in place for several years, creating a mini ecosystem for the kinds of fish the local sharks love. Thanks to the abundance of fish in the area, shark sightings are nearly guaranteed, and Shark Encounters doesn't have to chum the water the way some companies do. (Although it would kind of be cool to see the sharks in action, I think.) The cage floats right at the surface and only holds eight people (
picture of cage
with people in it), so they usually split the guests into two groups and each group gets about 20 minutes in the cage. Since there were only eight people on board our boat that early, though, we all went into the cage together and got double time.
Are you sure we're all going to fit in there?
I'd purposely picked the 6:30 tour because the water is supposed to be calmest early in the morning. Winter on the North Shore is the roughest time of year on the water (which is why all the major surfing competitions are in December), but on the way out to the cage, Philip commented on how fortunate we were that the water was really calm that day, and when we first got into the cage, it really wasn't that bad.
Philip and Chris told us the only rule for the cage: find a spot and plant your feet on the bar at the bottom and hold the bar at the top. That way you wouldn't be tossed around the cage when a swell hit and wouldn't bump into other people. Well, apparently, the Canadian couple, T.J., and I were the only ones who got that memo. No sooner had we entered the cage than the Texas woman and her kids started banging around the cage, floating and knocking into the rest of us. And they were, umm, bigger people.
I'm already a little...nervous...in the water. If T's biggest fear is heights, mine's of drowning. In my proud, youthful days, I used to be one of those yahoos who said I wasn't afraid of anything or the only thing to fear is fear itself or some other such nonsense, but in the last couple of years, it has become more and more clear to me that I have a near crippling fear of drowning, or more specifically, of not being able to breathe (see Disastrous SNUBA Incident of 2009). So put me in a cage way out on the ocean, add rolling swells of salt water, some inconsiderate fellow-snorkelers elbowing and kicking you without the smallest apology, and a dry snorkel you pop in your mouth and immediately can't breathe through, and I'm already in a bit of a panic before I've even seen my first shark.
The snorkel was the new one T.J. bought me as a wedding present (we bought each other snorkel equipment), so I'd never tried using it before, and when I took that first breath and drew no air, I freaked out a little. I basically threw my snorkel and mask at Philip, who was up on deck, and asked him to give me one of their masks and snorkels. The new snorkel worked much better, but I was already a little shaken at that point, and I'd had more than one taste of salt water, which makes me even more nauseated than dead-fish smell.
When I finally managed to calm down and put my face underwater, I saw my first shark, a ten-foot Galapagos circling the cage. The water was crystal clear, so even though I couldn't see the bottom six hundred feet below me, I could perfectly see the shark as he swam beside and beneath us. Eventually he was joined by another Galapagos and then a black-tip, but we never saw swarms of sharks the way they show in the pictures online. Still, just seeing the sharks swimming in their natural habitat, just feet away, was a really cool experience. Unfortunately, I had a hard time focusing on the sharks and appreciating what I was seeing because I was constantly being kicked and shoved. I was basically just huddling against the side of the cage at that point, focusing more on dodging blows than on the sharks.
Unfortunately, even though T.J. seemed to be getting more out the experience than I was, he too was becoming increasingly frustrated by the conditions, and in particular by the fact that the swells were getting larger and larger. At some point I noticed he'd been on the surface for much longer than normal and went to check on him, only to learn that the constant motion was making him feel seasick. "I feel like I'm trapped in a washing machine," he said, and it was then that I saw them--the giant swells heading toward us.
From the boat, the swells probably looked rather tame, but from in the water, they looked colossal--especially because they completely blocked the horizon. You know how if you feel seasick you're supposed to watch the horizon or some other stable, unmoving object? Well, unfortunately, there were none within sight. So then I started feeling sick, too, and ten minutes before we had to get out of the cage, I was motioning to Chris that I was ready to come out.
Once I was back on dry...fiberglass, Philip hosed me down with warm, salt-free water, and I grabbed my towel and went to sit on the center bench, eyes locked on the horizon. T.J. joined me a few minutes later, feeling just as miserable as I was feeling, so much so that he actually asked me if I would mind going to the front of the boat to get our ginger candy from my bag. Unfortunately, I felt like if I moved one inch I was going to hurl, and he wasn't looking any better, but a few minutes later he sucked it up and went for the candy and water. The candy helped tremendously, but what really helped me was the fact that I, umm, lost my stomach contents a few seconds later. I've never gotten seasick before (and the only time I've had to take Dramamine was when I was on a cruise that went through a tropical storm), so for me to get
sick
-sick on that boat, after being in that cage, means it was pretty bad. I know Philip said that was a
calm
morning, so I can't even fathom what a rocky morning is like!!!
I think I hid getting sick pretty well because no one was around at that point except T.J., and I was also rinsing my mouth out with water and spitting that out. Within seconds it was over, and I felt soooo much better, but poor T was sitting there looking whiter than I've ever seen him. Everyone else started climbing back on board after that and soon we were headed for shore.
Once back on dry land, we headed for the safety of our car, distributing ginger candy along the way to people waiting for the next tour. Some of them said they hadn't even taken Dramamine and are prone to seasickness, so I hope they survived the trip okay. :-(
I know this review seems extremely negative (and it was probably my and T.J.'s least favorite thing we did), but in all honesty Chris and Philip were wonderful and I probably would have enjoyed the trip very much if it weren't for who was in the cage with us and how big the swells were. If I could have just put my face in the water, breathed through my snorkel, and not looked up for 20 or 30 minutes, it probably wouldn't have been bad at all. But in those conditions, it was impossible. So if anyone is considering doing a tour with Shark Encounters, what I would suggest is 1) go in the summer, when the water is calmer, 2) take a big enough party that you aren't stuck in the cage with rude strangers, 3) don't eat breakfast, and 4) take plenty of cold bottled water and ginger candy with you.
Seriously, I almost feel bad telling this story because Chris and Philip were
so
nice, especially Philip, and if I could have just ridden the boat out there, listened to his stories, and then come back, I probably would have had a fabulous time. I'm sure they are the best at what they do, and if you want to do a caged shark encounter, they are definitely the people to go with; my experience just wasn't the most positive as far as the actual cage (or washing machine) was concerned.
When we got back in the car, we looked at the camera pics and videos and were kind of disappointed in how they turned out. Our little underwater Pentax does decently enough when you are shooting inanimate or barely moving underwater life, but the sharks were just too fast for T to focus on them, so the pictures were all far away-looking and grainy. Just to give you a brief idea of what we saw, though, I'm attaching one of the few short videos he took:
We waited a few minutes for T's stomach to settle down, and then he cranked the car...and the engine light came on. Even though the engine light isn't usually a big deal, the car had been running kind of rough, so T decided to call Thrifty to see what they had to say. They suggested we drive back to Honolulu and switch the car out, which we agreed to do, even though we had originally planned to visit some North Shore beaches and drive around the windward (eastern) side of the island.
Having to drive back to Honolulu ended up being a blessing in disguise because we were both feeling pretty grimy at that point and hungry, too. We got back to Thrifty in less than an hour, switched out cars (another Ford Fusion, but this one with duel climate control. Woohoo!), and stopped by McDonald's for breakfast on the way back to the Marriott. Full and feeling much better, we got cleaned up and I worked on a new plan for the rest of the day.
Since the plan originally had been to start at the northern part of the island and drive south along the coast, we decided to work backwards instead and see how far we made it. We left sometime between 11 and 12 and headed south along the coast past Diamond Head.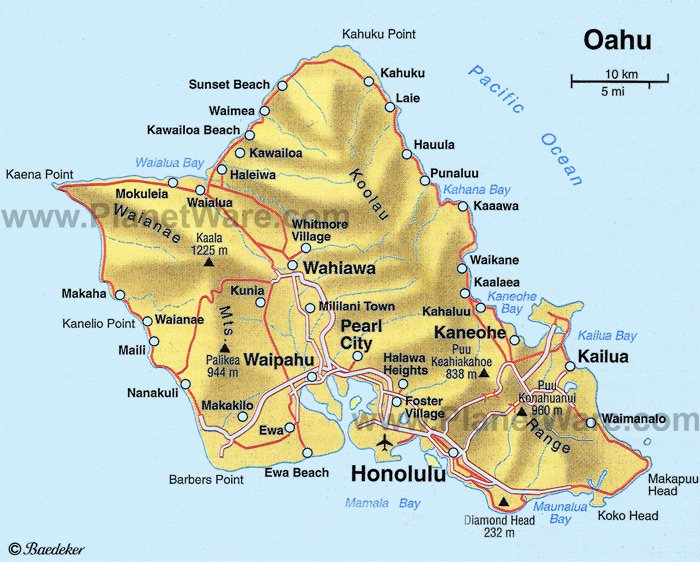 As you can tell from this map, that red highway basically goes all the way around the eastern side from the North Shore around to Honolulu, so instead of starting at the top and driving around, we decided to start at the bottom and drive toward the top.
There are three things we were really thankful for this trip: our GPS, the Thrifty drive guides they leave on the dashboard of each rental (and have for each island), and the thorough reviews of fellow Cruise Critics, which I printed and brought with us. We did a lot of scenic drives (sometimes we like to just cruise around with the windows/top down and check out the views--that's our method of relaxation).
This particular drive was one of our favorites. I took the
directions
from Cruise Critic GypRasc, so I have her to thank for them, but she borrowed the route from the Circle the Island Tour a lot of local tour companies run for tourists who don't have (or don't want) rental cars. We kind of tailored the itinerary to our interests and dropped some stops GypRasc wasn't as enthusiastic about, so we ended up just focusing on the lookouts, and we only made it about halfway around before it was time to head back to the hotel. The only place we wanted to stop that we couldn't was Hanauma Bay--the parking lot was full by that time of day and they were waving people on when they tried to stop.
Since this review is already getting ridiculously long, I'm just going to do a photo montage of all the lookouts where we stopped:
Koko Crater. This wasn't on the original itinerary, but there was a nice lookout spot for it on the left side of the road shortly before we reached Hanauma Bay.
The lookout before you get to the Halona Blowhole. Pretty sure the Thrifty map calls this one the "Molokai Lookout," although we certainly didn't see Molokai from here.
Hmmm, what could possibly have me so captivated?
Maybe this! Halona Blowhole Lookout. (Halona Blowhole sold separately.)
Tiny beach below Halona Blowhole Lookout where they filmed a key scene in From Here to Eternity.
Makapuu Lookout. That's Makapuu Beach Park below, and this is also the trailhead for the Makapuu Head hike. (Also where we met the local who had never been to Kauai!) All these ocean lookouts are starting to look alike, though, so let's move on, shall we?
After this the road winds more inland, and you drive through some small towns. Eventually, we ended up here:
Nu'uana Pali Lookout. Nice views but tends to be a bit more overcast since it's on the windward side, and it's super windy up there. Bring a sweater! Also, you have to pay $3 to park, which made this the most expensive view of the trip.
Photograph of me photographing the thing I photograph the most--weird, twisted trees. On the way back to our car at Nu'uanu Pali.
My favorite place that we visited that day was Byodo-In Temple, a part of the Valley of the Temples Memorial Park, a vast cemetery partitioned into "neighborhoods" for various faiths and ethnicities. There are sections for Catholics, Buddhists, Shintos, various Protestant denominations, etc., but the biggest tourist draw is the Temple.
Fun fact: The Temple also appears in the first season of LOST as Sun's father's home.
Byodo-In is a smaller replica of its Japanese namesake, and it's surrounded by small waterfalls, koi ponds, and covered meditation spaces. Not to mention it sits at the base of the Ko'olau Mountains. For $3 a head, you can tour the Temple, see the giant Buddha, feed the fish, and ring the sacred bell.
T.J. ringing the sacred bell
The sacred bell, or bon-sho, is three tons of brass and tin carved with scenes and images. Visitors use the shu-moku, a wooden log, to ring the bell before entering the Temple. Supposedly, striking the bell and listening to the gentle ringing cleanses the mind of evil thoughts and spirits.
Inside the Temple is the Amida Buddha, a nine-foot tall carving covered in gold leaf. It sits on a raised platform, so it seems much, much larger than nine foot. In the temple around the Buddha are images of Boddhisattvas--wise, self-sacrificing beings who help others achieve enlightenment. (All that research I did on Buddhism for my World Lit I students finally paid off.)
Stop calling attention to yourself, Temple! I'm trying to shoot the Buddha! (This picture would be so much nicer if I could figure out how to change the depth of field on my Nikon point-and-shoot.)
This looks...uncomfortable. Someone get these koi some breathing room!
Black swan! I'm sure they're nice and all, but that movie has ruined my opinion of them.
The ghost of me visiting Byodo-In. Oh, wait...no, that's the real me.
You can't help but feel calm and relaxed when visiting Byodo-In. The entire place is so beautiful and so photogenic, I think it's impossible to take a bad picture of it. More than that, though, the place feels sacred, peaceful, and it's a nice reprieve from the hustle and bustle of Honolulu and Waikiki.
We had one more stop to make after Byodo-In--the
Tropical Farms Macadamia Outlet
. This place was a little tricky to find because we didn't know its actual name and we couldn't find it in the GPS. Eventually, we found an address for it online, and away we went. It was several minutes away, but I think we stayed on the same road (Kamehameha Hwy?) to get there. It's only a couple of minutes before you reach Kualoa Ranch, at any rate. (More about the Ranch when I write about our final day in Hawai'i.)
We finally found the Outlet, and it really is just that--an outlet. For the most part, it's just a place to pick up some good local treats. It's not nearly as built-up or flamboyant as the Dole Plantation (which also means it's less crowded), but they do offer a farm tour we didn't take. They have lots of unique souvenirs and handmade crafts, too, but we came for the nuts, and of course we had to try every flavor.
They have all kinds of flavored macadamias, such as Kona coffee and honey-glazed, but our favorites were the caramel-coated and the salted, so we bought several bags of those. They had other kinds of candy, too, and some caramel popcorn that was to die for, but we didn't buy any. :-( My least favorite thing was the garlic and Maui onion macadamia nut, which was just...blech. I'm sure there are people who love it (Maui onions being as popular as they are), but I was happy to erase that flavor from my mouth forever with a big handful of caramel popcorn. (Good thing you could take as many samples as you want.)
Statues outside the Macadamia Outlet
It was around 4:30 by that point, and since we knew we wouldn't have time to do the Kualoa Ranch tour that late, we headed back to Waikiki. The drive back is only about half an hour, but it took us a little longer with rush-hour traffic. Since our dinner reservations at
Duke's
weren't until 8:00, though, we had a couple of hours to relax and get ready for dinner, and we also decided to leave early to do some browsing at
International Market Place
.
On a map, the distance between the Marriott and the Market looks a bit daunting, but it's actually a rather pleasant walk along Kalakaua Avenue, which is the main strip in Waikiki. It's lined with huge, multi-story resorts and fantastic shopping, all the designers you could possibly want. Even nicer,
Kuhio Beach Park
takes up one side of the street from the Marriott to the Hyatt, so for most of the walk we could see the ocean.
The sidewalks were pretty full of people shopping or heading out for the evening, which made for a fun, festive atmosphere. Along the way we checked out the other resorts, and I made T.J. promise that the next time we are in Waikiki we'll stay here:
Moana Surfrider Westin resort
I just loved the facade of this building, so I'm definitely going to keep it in mind for the next time we're there. (And there
will
be a next time.)
We had about an hour to kill before our dinner reservation, so we wandered around International Market Place for awhile, but none of the stores we first looked in really had the kinds of souvenirs we like to buy. We finally ended up in the
Christmas Store
, which offers personalization in minutes on anything you buy. They also have a giant book of Hawaiian names, so you can get your personalization done with your Hawaiian name, if you like. They even had my name in the book! (Lacy=Laki) Unfortunately, we didn't see the name book until after we'd purchased our little people and told the sales associate how we wanted them personalizaed ("Honeymoon in Hawaii - 2011" and our names). Still, it's a cute souvenir to bring home, and she had it ready for us within ten minutes and then we were on our way to Duke's!
Duke's is in the
Outrigger
hotel directly across the street from International Market, so it was a very short walk. The restaurant is at the back of the hotel right on the water, and even at 8:00 at night it had a
very
long wait (as I've heard it does most nights). We were thankful we had a reservation because in less than five minutes we had a table.
We chose Duke's because it seems like one of those "things" you just have to do while you are in Waikiki, no matter how touristy it seems. Reviews of Duke's vary wildly from those who live for the place to those who loathe it. From the reviews, I have to say that I got the impression it was some kind of tacky Margaritaville-style beach shack, but it was far from it. It was actually a pretty nice restaurant. I loved the ambiance, and the wait staff (at least ours) was fantastic.
I was all set to try the fish tacos a reviewer on Cruise Critic said she tries every time she goes, but they weren't on the menu! (I found out later they are on the bar menu, which you can probably request in the main dining room.) We weren't super hungry, so we thought about splitting a meal (the meals certainly aren't beach-shack prices), but since T wanted fish and I wanted red meat, we decided just to go ahead and order separate meals. T had the macadamia nut and herb-crusted swordfish with a side of rice, and I had the top sirloin with caramelized Maui onion demi glace and Yukon Gold mashed potatoes.
T.J. thought the swordfish was "very, very yummy" (his words; I just asked), and although I honestly don't remember much about my steak, at the time I enjoyed it, and I
loved
the potatoes. In the past few months, I've become convinced that the
only
way to make mashed potatoes is with Yukon Golds, and Duke's certainly didn't disappoint. The best thing about dinner at Duke's, though, is the mega salad bar that accompanies every dinner, including super delicious rolls and muffins.
After we finished our entrees, we decided to order dessert. I really wanted to try the pina colada bread pudding because it sounded amazing, but I also knew that if you're at Duke's, you have to have the Hula Pie, since that's what it's most famous for.
Another picture of Hula Pie to add to the hundreds already on the Internets. Can I have some more please?
So obviously that's what we ordered. Chocolate cookie pie crust, macadamia nut ice cream, hot fudge, whipped cream, and chopped mac nuts?! What's not to love?
I was still lamenting the fact that I didn't get to try the bread pudding, though, so imagine my surprise (and happiness!) when I discovered that Duke's serves it on their breakfast buffet! Our server assured us that no reservations were necessary for breakfast, so we decided we had to come back in the morning for the buffet.
Happy and full, we headed back to the hotel to turn in before 10:00 like the old fogeys we are. (Though, to be fair, we had been up since 4:30 a.m.) On the way back, I had to stop by the Duke statue in Kuhio Park so I could take a picture of the man himself...
Surf legend Duke Kahanamoku
...and that, my friends, ends our first full day in Hawaii. Are you as exhausted as I am?